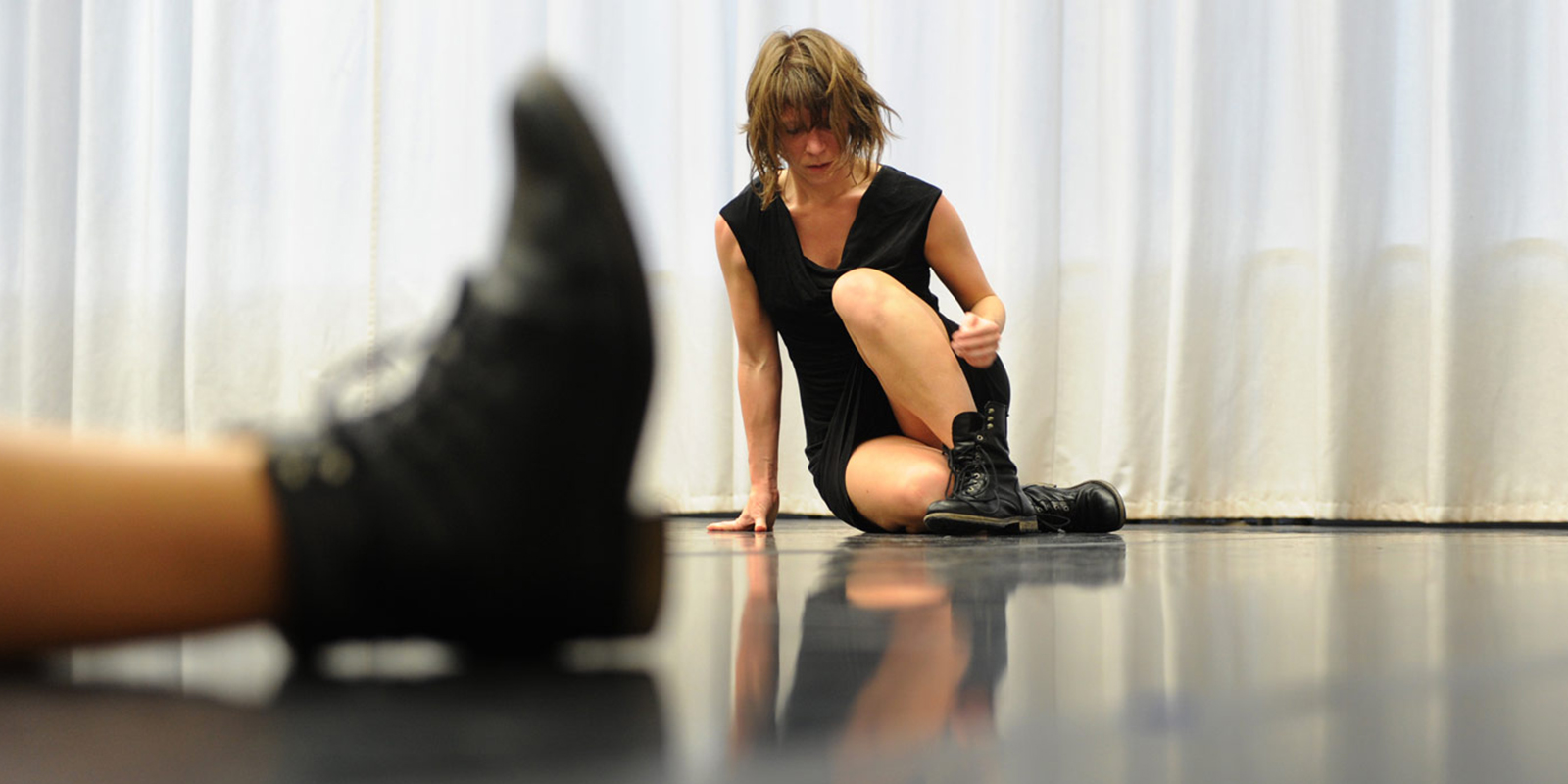 Bodies Liberated – Libertarian Bodies
The Emancipation of Bodies as Political Speech
The dancer's body has always identified itself as an allegorical space; a conveyor of a quest; the reflection of an era; an approach, a perspective on the world. Whilst the Company is constantly looking to take on new challenging, perilous realms, in order for dancing bodies to reveal their full commitment on stage – Précaire (Precarious), PERF', VOAR ou l'heure du vertige (VOAR or Vertigo Time); also, it now fully asserts its need to work towards collective emancipation. The Company brings into play its liberating political pursuits which generate some really wonderful opportunities for dialogue with the audience. This is given expression through choreography which incorporates the liberation of bodies on stage – Performing bal disco – Le bal dont vous êtes le héros! (Performing at the Disco Dance – The Dance Where You Are the Star!) MU – Saison 2 / Vénus anatomique (Anatomical Venus), Ma vie est un clip (My Life Is a Video Clip). This combines with libertarian figures – Là, se délasse Lilith… (There Lilith Relaxes…), AMAZONES (Amazons). With this in mind, the Company is continually working on protean encounters, a range of porous offerings taking place between the auditorium and the City through participatory projects, in-situ performances, conference-debates, and so on.
The Marinette Dozeville Company is a choreographic troupe based in Reims in the Région Grand Est of France. Their research work started in 2003 with the production of a solo; their first calling card: D'ailes (Wings). In 2006, Rupture d'anévrisme (Ruptured Aneurysm) came out; a large-scale production for two female dancers, a musician and a video maker, which gave a glimpse of the Company's strong liking for artistic collaboration. From 2007 to 2009, the Company was sponsored by Théâtre Louis Jouvet – a subsidised theatre at Rethel in the Ardennes. During this partnership, Dopamine came about in 2007, followed by Précaire in collaboration with composer Sébastien Roux in 2009.
Then, from 2009 to 2012, it was Le Manège, a national theatre in Reims, which took over support of the Company. The following were then produced and performed: MU – Saison 1 / La femme manteau (MU – Season 1 / The Coat Woman) in collaboration with puppeteer David Girondin Moab in 2010; Performing bal disco – Le bal dont vous êtes le héros! – a modern participatory dance first performed in 2011, and PERF', a choreographic One Woman Show in 2012.
In 2013, the Company was approved and subsidised by the Région Grand Est. It started a two-season residency with Arts Vivants 52 during which the piece for five performers, VOAR ou l'heure du vertige, came into being, as well as MU – Saison 2 / Vénus anatomique produced in collaboration with video maker Do Brunet at the Centre Culturel Numérique Saint-Ex (the Saint Exupéry Digital Cultural Centre) in Reims.
Then, in 2016-2017, Marinette Dozeville became artistic partner of Le Manège, a national theatre in Reims. At that time, she created Dark Marilyn(s).
As a groundbreaking piece in her progressing career based on female figures, she wrote and performed Là, se délasse Lilith – Manifestation d'un corps libertaire… (There Lilith Relaxes – Manifestation of a Libertarian Body…) in 2018.
In 2019, came the production of Ma vie est un clip (My Life is a Video Clip) which confirmed the Company's commitment to work on bringing contemporary writing to audiences. The Company then joined forces with Le Nouveau Relax – a subsidised theatre in Chaumont in 2019-2020, and developed a partnership with the Abbé Pierre Foundation for the C'est pas du luxe festival (the "It's No Luxury Festival") in 2020 and 2021.
In 2020, the Company began a cycle about the representation of women's groups with BREAKING THE BACKBOARD (2020, a performance for a female basketball team, co-created with visual artist Frédéric Liver), AMAZONES, (2021, a septet of women dancers, freely inspired by the book Les Guérillères by Monique Wittig), and C'est comme ça que Don Quichotte décida de sauver le monde (This is How Don Quixote Decided to Save the World); with first productions in 2023 and 2024, pieces for ten performers, half of them dancers, the other half activists.
Residencies and Partnerships
Financial Backing
The Marinette Dozeville Company has been granted subsidies for three years from the D.R.A.C. Grand Est (Regional Office of Cultural Affairs for the Great East). It is also receiving funding from the Conseil Départemental de la Marne (Marne County Council) and the City of Reims. In 2023, the Company has been awarded the Tridanse subsidy and is receiving aid for the creation of street arts – Ministry of Culture, D.R.A.C. Grand Est.