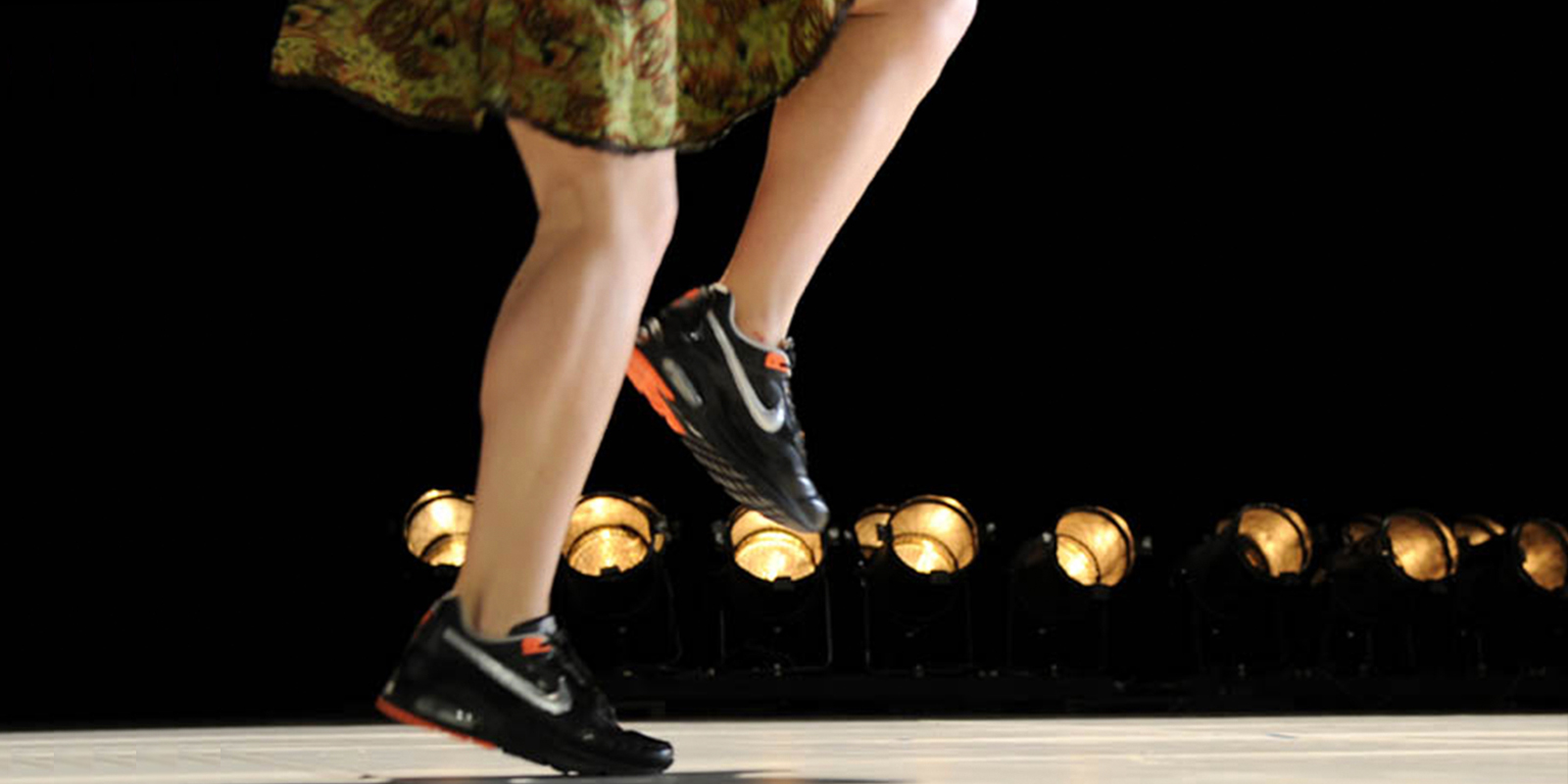 A sports physician, engineer, juggler, vicar, director, choreographer, poet, economist, hip-hop dancer, osteopath, and child psychologist… What do they all have in common? A certain concept of performance according to Marinette Dozeville. As she goes to and fro from dance to sociological survey, entertainment and thought in motion, the choreographer-performer examines the notion of performance over the course of her countless events ranging from the stadium to the dance floor and strip-tease…
Performance/anti-performance :
This is about tackling sports performance, stage performance, the myth of heroes and superheroes, and questioning the representation and staging of these heroes of today through the cult of their image. The performance is a study of their postures, physical poses, stage behaviour, and what they display. Information about their visual behaviour and heroic iconography is gathered, and the expressiveness of their media image and their relationship with the audience are examined.
I transcribe, witness, translate and stylise onstage with my body and dancing as a modern dancer with the sort of humour and self-derision associated with the discrepancy between the world I'm questioning and the world which I'm a part of professionally. There is no taking sides or mockery or approval – just making oneself into the vector of a world which to me seems as remote as it is fascinating, and which, whether one likes it or not, makes up our collective mythology.
Allowing oneself anti-performance.
Seeking performance in the small things and the unsensational.
PERF'
Duration: 50 minutes
Production Cast
Choreographer and Performer: Marinette Dozeville
Music: Hubert Michel
Set Design, Costumes: Clémentine Treu, Anne-Sophie Velly
Artistic Advice: François Ben Aïm, Benjamin Duval
Lighting: Hervé Lonchamp, Aurélien Charlier
Production
Yapluka – The Marinette Dozeville Company
Co-Productions
Le Manège, a national theatre – Reims, Césaré – Centre National de Création Musicale in Reims.
Financial Backing
With the support of the D.R.A.C. Champagne-Ardennes (Regional Office of Cultural Affairs), ORCCA (Regional Cultural Office of Champagne-Ardenne), the Conseil Général de la Marne (Marne Departmental Council), the City of Reims, Micadanses in Paris, Le Centre Culturel du CROUS – the University of Reims, Le Centre Culturel Numérique Saint-Ex and Le Laboratoire Chorégraphique in Reims, and Les Journées Danse Dense in Pantin.
Report and interview on the creation