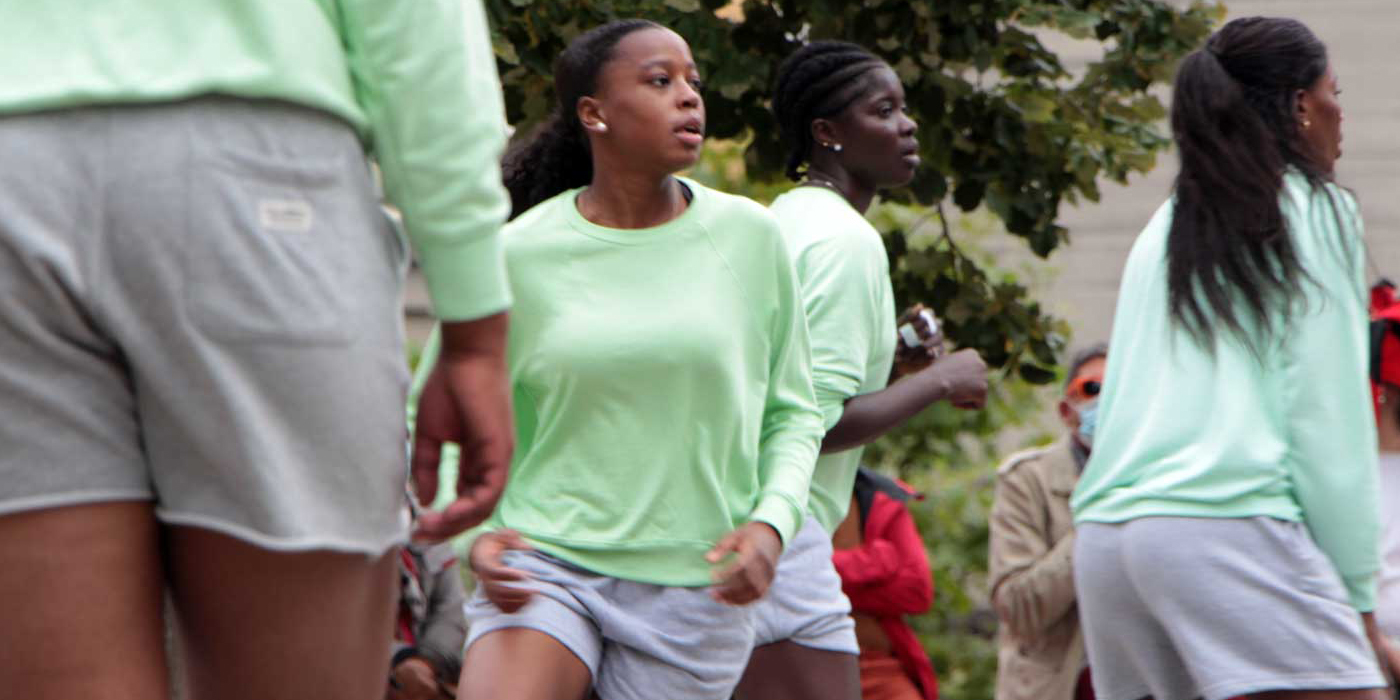 BREAKING THE BACKBOARD
   MDLXIII  
Frédéric Xavier Liver and Marinette Dozeville met in 2016. Through media and quite different ways of doing things, they identified with each other about their concerns relating to commitment, effort and the connection between art and society. That is how they decided in 2018 to undertake the BREAKING THE BACKBOARD project together, under the shared signature MDLXIII.
Breaking the Backboard can be described as a performative group utopia.
Breaking the Backboard: this is a performance of basketball without nets or ball, thus removing the notion of a score or having winners and losers. The beauty of the game and the ferocious energy of the bodies involved are retained. This is because movement becomes choreographic when its productive nature is removed; and a realm of poetic interpretation is opened up when the effectiveness of an intention is eliminated.
Breaking the Backboard: the physicality of excess via bodily commitment and surpassing oneself.
Breaking the Backboard is about breaking stage boundaries, breaking spatial boundaries, breaking energy boundaries, breaking the boundaries of what is dance and what is not, breaking the boundaries of what is serious and what is not, breaking the boundaries of what is said on a stage and what is not said.
Breaking the Backboard puts forward basketball as a certain concept of dance. This relies on the energy and "groove" of bouncing back, the movement of energy and bodies specific to basketball, in order to draw out performative writing, composition structured by its choreography of action and choreography of space.
Breaking the Backboard is a performance with horizontal energy and utopia which will cultivate the porosity of the game between players (artists) and witnesses (spectators).
Although initial research was carried out with a mixed team which met here and there on street playgrounds, the wish to do this Project developed towards having a female team. As a continuation of work into the representation of the Feminine in Marinette Dozeville's works (Précaire, Dark Marilyn(s), Là, se délasse Lilith…, AMAZONES), and after having comprehensively carried out what are known as "household" and "women's" tasks with knitting and macramé to make basketball nets for Frédéric Xavier Liver, it became apparent that staging a women's basketball team was essential to continue degendering practices, representations and body states.
In no way is it a question of making the basketball players dance, or mimicking playing basketball, nor even mixing basketball and dance. After observing the beauty of their movements and the involvement of their bodies in their game of basketball, it is from this action in all its authenticity, with its rules, gestures, and relational issues between players and space, that the players will be brought into play and "staged" through learning scores and improvisational rules. So, there's no "getting people to dance" but rather revealing and showing that "there's dancing going on"… In the spirit of "ready-made" items, the idea is to compose in such a way as to show and interpret things differently, in a new light, to reveal other facets and interpretations, in this case, a choreographic interpretation of basketball playing.
BREAKING THE BACKBOARD
Duration: 25 minutes
Production Cast
Choreographer: Marinette Dozeville
Visual Artist: Frédéric Liver
Club des Panthères de Saint-Savine (10)
Production
Yapluka.
Co-Productions
Pôle Danse des Ardennes.
Financial Backing
La Fileuse – Friche Artistique – Reims.